SmartWORKS™ LD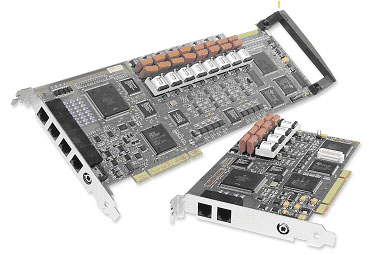 Designed for analog networks, the SmartWORKS™ LD has both passive and terminate network interface capabilities. Featuring programmable voltage thresholds and loop reversal detection, the SmartWORKS™ LD is easily configured to accommodate variations across analog networks.This series offers in 4, 8, 16 and 24 port versions, suitable for small to large offices and call centers.
Key Features & Benefits:
4-24 Port Telephony Cards – Offers low to high density boards that are ideal for any analog environment.
On Demand Voltage Detection – Voltage values are reported with standard SmartWORKS™ API events to simplify application development.
Programmable Voltage Thresholds – Control voltage detection event reporting with ease by adjusting the board to the local analog environment.
Detects Polarity Reversal – Adapts to environments where Tip and Ring are reversed.
Minimum 18k Ohm Impedance – High impedance receivers record both sides
of a call without interrupting service.
CODEC Support – SmartWORKS™ offers a large selection of voice CODECS (including G.723.1, G729A and MS GSM)
SmartWORKS™ LD Datasheet
* All document will in Portable Document Format (PDF).

For details : sales@icg-corp.com

CLICK HERE TO CONNECT VOIP
Dialogic Media & Network Interface boards
JCT & Analog Media Boards
Diva Media Boards
CG Media Boards
HMP Interface Boards
Blue Telephony Boards

Dialogic Fax Boards & Software
Brooktrout Fax Boards
Brooktrout FoIP Software
Dialogic Signaling & SS7 Components
Signaling Boards
Signaling Servers & Gateways
Signaling Software
Dialogic Session Border Controllers
BorderNet 4000 SBC
BorderNet 3000 SBC
BorderNet 2020 SBC
Dialogic Enterprise Gateways
DMG Series
BorderNet 500 Series
Dialogic Gateway for Microsoft Lync
DMG2000
DMG4000
DMG4000 SBA
Dialogic Media Gateway for Service Provider
IMG Series & BorderNet 2020
I-Gate 4000 Media Gateways
I-Gate 4000 SIP Gateways
Dialogic Bandwidth Optimizers
I-Gate 4000 SBO Core
I-Gate 4000 SBO Core X
I-Gate 4000 SBO Mobile Backhaul
Dialogic Video Gateways
Vision Products
Dialogic Media Server Software
PowerMedia HMP
PowerMedia Extended Media Server
Enhouse(Syntellect)
CT ADE
SCP 8
CT Connect
Voipex ViBE
ViBE SPS-501 Central Server
ViBE P2PB-201 Bridge
Ai-logix Voice recording Board
Analog Recording board
Digital Recording board
IP Recording board
Message Manager
T.30 Fax Server
T.38 IP Fax Server
Developer Session
Dialogic Support
Knowledge Base
News and Event update
Press Release
Seminar & Trade Show
Training Schedule