SmartWORKS™ IPX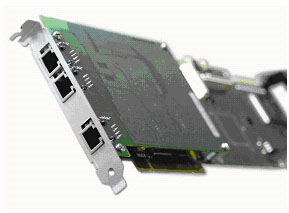 SmartWORKS™ IPX-C is an essential component of your call recording solution that provides packet filtering and media forwarding for IP-PBXs. It has one on-board connection for forwarding up to 960 RTP streams and two on-board connections for monitoring the IP traffic at the wire speed. When combined with the TRB260 and/or AudioCodes Soft Recorder, the IPX-C provides complete event triggering, call state reporting and media processing for many of the industry leading IP-PBXs.
Key Features and Benefits:
Multiple PBX Support – The same hardware supports multiple protocols including Skinny and Avaya and is designed to accommodate future protocols such as SIP and H.323 with just a software upgrade.
Multiple Protocol Support – The same hardware supports SIP, H.323 and Skinny (SCCP) and is designed to accommodate future protocols with just a software upgrade.
Mirror Port Independent – May be placed anywhere in the system to accommodate specific application requirements.
Flexible Event Triggering – Applications can start and stop recording based on AudioCodes Call control or take advantage of PBX/protocol specific messages.
RTP Forwarding – A single IPX can forward media (RTP) to multiple network devices such as an IPM260 or the soft recorder.
SmartWORKS™ IPX Datasheet
PBX Supporting Details
SmartWORKS™ Soft Recorder Module
SmartWORKS™ Soft Recorder Module (previously called Soft Recorder) is a software component running with the AudioCodes IPX-C board to form a complete VoIP recording solution. The recording module is implemented with HMP technology that takes the advantage of the unused CPU processing load on a high performance CPU.
Key Features & Benefits:
Scalability – The modular design makes both system density and cost very scalable from low to high density. The architecture allows for a low density system which can grow to a higher density product. The customer pays as the system grows.
Configuration flexibility – The recording module does not have specific hardware requirements. The application developer can select their platform and system configuration according to their target system throughputs, price range, and available space.
Sure prediction of the system performance – The recording modules' performance benchmark is specified with CPU usage on a given load. On a given recording server, the performance can be easily predicted.
Building a high availability system – A high availability system can be built easily and cost effectively by using one standby recording module for other active recording server on the system (1 for N redundancy).
SmartWORKS™Soft Recorder Datasheet
* All document will in Portable Document Format (PDF).

For details : sales@icg-corp.com

CLICK HERE TO CONNECT VOIP
Dialogic Media & Network Interface boards
JCT & Analog Media Boards
Diva Media Boards
CG Media Boards
HMP Interface Boards
Blue Telephony Boards

Dialogic Fax Boards & Software
Brooktrout Fax Boards
Brooktrout FoIP Software
Dialogic Signaling & SS7 Components
Signaling Boards
Signaling Servers & Gateways
Signaling Software
Dialogic Session Border Controllers
BorderNet 4000 SBC
BorderNet 3000 SBC
BorderNet 2020 SBC
Dialogic Enterprise Gateways
DMG Series
BorderNet 500 Series
Dialogic Gateway for Microsoft Lync
DMG2000
DMG4000
DMG4000 SBA
Dialogic Media Gateway for Service Provider
IMG Series & BorderNet 2020
I-Gate 4000 Media Gateways
I-Gate 4000 SIP Gateways
Dialogic Bandwidth Optimizers
I-Gate 4000 SBO Core
I-Gate 4000 SBO Core X
I-Gate 4000 SBO Mobile Backhaul
Dialogic Video Gateways
Vision Products
Dialogic Media Server Software
PowerMedia HMP
PowerMedia Extended Media Server
Enhouse(Syntellect)
CT ADE
SCP 8
CT Connect
Voipex ViBE
ViBE SPS-501 Central Server
ViBE P2PB-201 Bridge
Ai-logix Voice recording Board
Analog Recording board
Digital Recording board
IP Recording board
Message Manager
T.30 Fax Server
T.38 IP Fax Server
Developer Session
Dialogic Support
Knowledge Base
News and Event update
Press Release
Seminar & Trade Show
Training Schedule