SmartWORKS™ NGX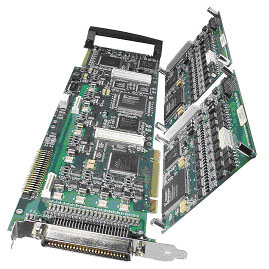 The SmartWORKS™ NGX is an all-in-one resource for logging behind a PBX. Every key pressed, call taken, and telephone action performed by an agent is automatically decoded and sent to the recording application. A powerful set of features, combined with PBX integration, makes the NGX a true single slot solution for call logging application providers.
Key features & Benefits:
Multiple PBX support – A single board interfaces with a majority of industry leading PBXs to simplify the design of global call recording applications.
Firmware Upgraded – A simple firmware upgrade allows the NGX to adapt to different PBX environments.
Wide Spectrum of Trigger Events – Initiate and terminate recordings based on voice activity, raw D-channel, or Call Progress Monitoring (CPM) events.
Summation – Monitors up to 24 channels in real-time with on-board audio jack resources.
CODEC Support – SmartWORKS™ offers a large selection of voice CODECS. (Including G.723.1, G729A and MS GSM)

PBX MODELS SUPPORTED
Alcatel, Avaya, Bosch, Cisco, eON, Ericsson, Fujitsu, Harris, LG, Mitel, Nakayo, NEC, Nortel, Panasonic, Philips, Rockwell, Samsung, Siemens, Tadiran, Telrad, Toshiba
SmartWORKS™ NGX Datasheet
PBX Supporting Details
* All document will in Portable Document Format (PDF).

For details : sales@icg-corp.com

CLICK HERE TO CONNECT VOIP
Dialogic Media & Network Interface boards
JCT & Analog Media Boards
Diva Media Boards
CG Media Boards
HMP Interface Boards
Blue Telephony Boards

Dialogic Fax Boards & Software
Brooktrout Fax Boards
Brooktrout FoIP Software
Dialogic Signaling & SS7 Components
Signaling Boards
Signaling Servers & Gateways
Signaling Software
Dialogic Session Border Controllers
BorderNet 4000 SBC
BorderNet 3000 SBC
BorderNet 2020 SBC
Dialogic Enterprise Gateways
DMG Series
BorderNet 500 Series
Dialogic Gateway for Microsoft Lync
DMG2000
DMG4000
DMG4000 SBA
Dialogic Media Gateway for Service Provider
IMG Series & BorderNet 2020
I-Gate 4000 Media Gateways
I-Gate 4000 SIP Gateways
Dialogic Bandwidth Optimizers
I-Gate 4000 SBO Core
I-Gate 4000 SBO Core X
I-Gate 4000 SBO Mobile Backhaul
Dialogic Video Gateways
Vision Products
Dialogic Media Server Software
PowerMedia HMP
PowerMedia Extended Media Server
Enhouse(Syntellect)
CT ADE
SCP 8
CT Connect
Voipex ViBE
ViBE SPS-501 Central Server
ViBE P2PB-201 Bridge
Ai-logix Voice recording Board
Analog Recording board
Digital Recording board
IP Recording board
Message Manager
T.30 Fax Server
T.38 IP Fax Server
Developer Session
Dialogic Support
Knowledge Base
News and Event update
Press Release
Seminar & Trade Show
Training Schedule